Instructor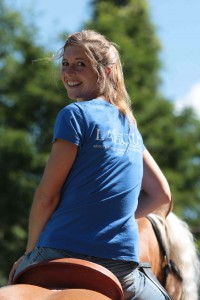 Christiane Moeller:
Christiane, born in 1980, originally from the Black Forest, Germany, dedicated her life to horses from an early age. She started riding when she was 8 years old and spent lots of time at the riding school helping others, just to be able to get her hands on the horses and ponies. When she was 13 years old she got her first horse. He was a challenging youngster and she learnt a lot from him. She went to some dressage competitions with her horse but more for her own pleasure than anything too serious. For several years she worked and trained horses in dressage.
When she finished school (Certificate of General University Maturità) she qualified and worked as a Veterinary Assistent at "Pferdeklinik an der Rennbahn", a horse clinic in Baden Baden.
Whilst working at the clinic Christiane become more interested in the work of Monty Roberts – finally there was someone who could explain to her the "why".
She decided to learn more and joined the Andrea Kutsch Akademie in Berlin to study Equine Communication science in 2006. After one year she decided to leave the Academie to spend time gaining practical experience in order to become a fully Monty Roberts Certified Instructor. During this period Christiane spent 3 years working with various horsemen. She worked with instructors of Monty and horsetrainers who were using his methods in Germany, England, Holland and America and also worked and learned from Monty himself.
One of the best learning experiences was the 1½ years spent in England working and training with Grant Bazin and Dan Wilson from Practical Horsemanship. Grant was a very successful rodeo rider in Australia and Monty's Tour rider for 6 years. His partner Dan is still  -together with Gabriel Coglianese-Monty's European rider. Both work with Monty's principles on a daily basis; starting young horses and training remedial horses with all issues. During her time at Practical Horsemanship Christiane began the Monty Roberts' courses to become an Instructor.
Since 2008 Christiane has been part of the main team when Monty is touring through Germany, Ireland and Austria and played a part in the shows doing Join Ups or training the nonloaders.
In August 2009 she received her Certified Instructor licence of Monty Roberts Horsemanship and is looking forward to spreading his principle in Italy.