Laquus - Monty Roberts Certified Instructors Italia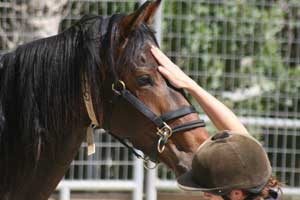 Laquus – Monty Roberts Certified Instructor Italy
is an institution with the primary focus of our curriculum being on
equine psychology
and
behaviour
.
We haven't invented a method but we use the horses behavioural principles in a herd and their communication in the wild, what nature created. There principles are valid tools to motivate and increase trust betweeen horses and people, the result is a convinced collaboration that will have as an end the horses performance to it's maximum level, rather than within the confines of the barrier of obedience.
Young horses are started and trained non-violant, remedial horses get re-educated and in which everyone – from the beginner to the professional horseman, can attend courses, to get a better under standing of the horses, to learn the language of the horses and the Join Up®.
Through courses, students develop a solid understanding of what motivates and influences equine behaviour in order to increase their effectiveness in helping horses fulfill their potential.
In addition for those who want to deepen their knowledge of the concept's can take part of a course formation, from a basic level up to the first step towards the pathway of becoming a Monty Roberts Certified Instructor.
Monty Roberts "The Man Who Listens To Horses" is known for his principles of communicating with horses using their own language, which he calls "Equus". Monty incorporates "Equus" into his non-violant training approach called Join-Up®. The principles of Monty Roberts base on communication and trust and that "violence is never the right answer".
The center operates Certified Monty Roberts Instructor Christiane Moeller.
Laquus is dedicated for those seeking professional help in the re-education of horses with behavioural issues. It is effective in any discipline of riding and all activities that occur with and around horses.
Once the horse is rehabilitated, the Instructors teach the owner to handle the horse using his language, so that the same problems do not come up again.

Main activities:
1. Starting process
2. Training of remedial horses
3. Courses
Laquus is sponsored by:


Articles of "giugno, 2014"